Music
To view our programme of teaching click here: Music National Curriculum
Music is held in high regard and is taught by staff across the school. Music lessons start as soon as children enter Nursery and take place on a weekly basis throughout the school to develop our children's knowledge, understanding and musicianship. Children are taught and encouraged to Perform, Compose, Listen and Appraise.
Lessons are taken from the published scheme 'Music Express' and other resources linked to topics are included. Music Express provides activities that are imaginative, inspiring and fun. Year 4 children follow a Wider Opportunities Programme purchased from Derbyshire Music Partnership. This is currently 30 weekly violin lessons over the course of a year.
During KS2 the children are offered instrumental lessons in violin, guitar, flute, clarinet, tin whistle and recorder. Preparing for performances is a major focus of music lessons. These children are given the opportunity to perform in special assemblies and presentations to parents and friends. Our choirs sing at the local residential home, the Lunch Club and festivals in church. Every child takes part in our annual whole school musical, held at the end of the summer term.
We offer a Wider Opportunity Programme (WOPPs) to our Year 4 pupils who learn to play the violins. We run two choirs across the school - Junior Church Choir and our very successful Concert Choir.
In addition to our Music Curriculum lessons, we offer a wide variety of peripatetic Music Lessons as well and all our pupils participate in a whole school show in the Summer Term.
'Joseph and the Technicolour Dreamcoat','Aladdin Kids', 'Jungle Book 'and 'Pirates of the Currybean', to name but a few, which involved every child, have been great successes, bringing the school and the community together. Events in church – Harvest Festival, Assemblies, Christmas Concerts, Nursery Nativity and our Christmas productions of ' Are We Nearly There Yet?','Midwife Crisis', Born in a Barn' and 'The Inn – Spectors' have also been enjoyed by many.
For further information on the WOPPs offer and Music events in The Peak District, click here: Music WOPPs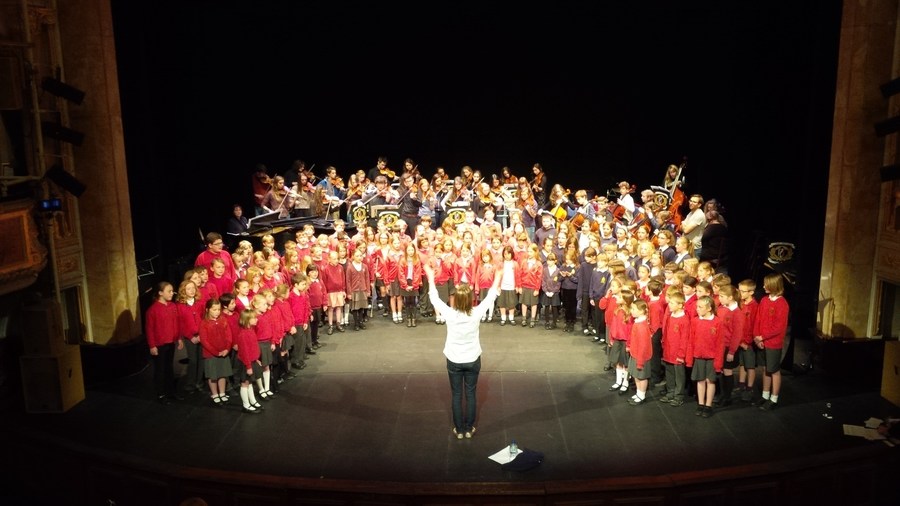 Our choir singing at Buxton Opera House